Hi Friends,
How are you and your kiddos? Staying healthy I hope!
Have you missed me? I've been really sick for a few weeks and barley getting by. Newsletters have been going out but very late and with no Darla's Dialog. Not many new events were added to the calendar not were many social media posts made. You may not know this, but Macaroni KID Annapolis is mainly a one (very busy) women publication. Although still sick, I'm feeling a lot better and am doing my best to catch up. I added a lot of March events to the calendar today so take a look.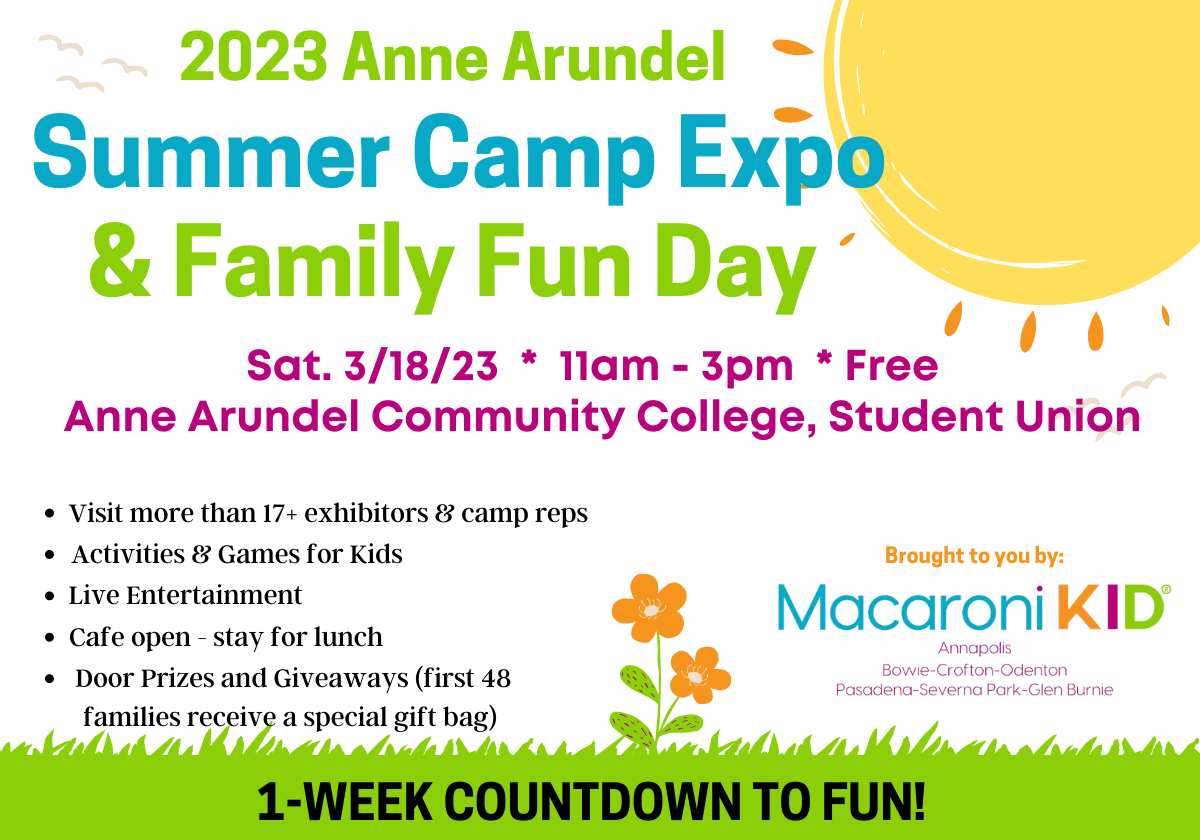 It's only one-week away from the 2023 Anne Arundel Summer Camp Expo and Family Fun Day hosted by the three Macaroni KID publishers in Anne Arundel County. Laura, Gloria, and I are so excited to share this event with you. We have many exhibitors and camps coming to spend the day with you. Each table will have a kid-friendly activity. Many will have giveaways and drawings for great prizes. Some will have live performances. Read this week's article,1-Week Countdown for a FUNTASTIC Camp Expo & Family Fun Day! for details about the event and who's coming.
Thank you to our confirmed exhibitors:
Anne Arundel County Public Libraries
Bowie Baysox
Children's Theatre of Annapolis
Chincoteague Bay Field Station
Goldfish Swim School
Impressionable Years
Jing Ying Institute of Kung Fu and Tai Chi
Maryland Hall
Naptown Plays and Sings
Pigtails and Crewcuts
School of Rock - Gambrills
SmartFit Kids Academy
Steve Clark, Change Your Pace Therapeutic Massage
Wild Kid Acres
See you next Saturday!
*There are still a few tables left for exhibitors and a few slots left for family-friendly entertainment. Want to promote your business, camp, or program? Email me and we can chat.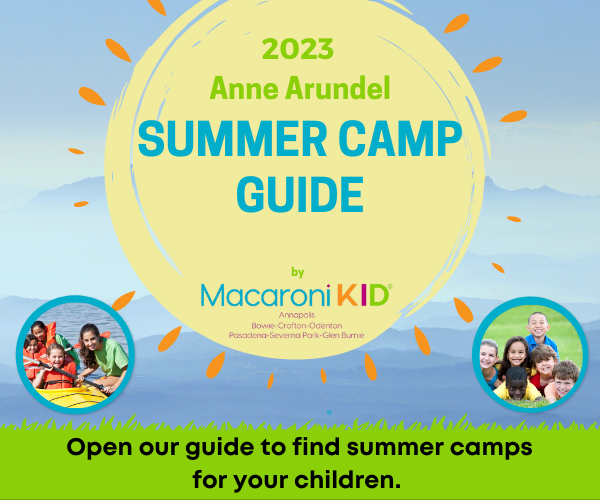 The 2023 Summer Camp Guide has over 20 Featured Camps and Programs listed. Check out their programs and find ones that fit the interests of your kids.
The guide got so big I had to separate the 200+ list of Anne Arundel County programs for kids and put that in another guide.
Speaking of Guides - We now have sponsors for three of our guides. THANK THEM!!! Sponsors allow Macaroni KID Annapolis to bring you valuable community resources.





Annapolis Arts

(soon to be created)

This guide will list art opportunities in Annapolis. Theaters, Galleries, Schools, Music Venues, ... and Public Art such as murals and sculptures

Sponsored by
Would you or your business like to sponsor an existing or new guide for a year? Would you like to include your business in one of our seasonal or year-round guides? I'm currently working on the following guides:
Summer Camps
Easter
Spring Break
Mother's Day Gifts
Father's Day Gifts
Rates are very reasonable and less than you think. Plus you will connect with thousands of families that live, play, and shop in our community. Email me to start a conversation.
Have a MacKIDtastic Week!
- Darla
Macaroni Kid Annapolis is a free hyper-local resource for families in the Annapolis area (and surrounding communities). It is your place to FIND FAMILY FUN through our website, weekly e-newsletter, social media sites, and Macaroni Kid sponsored events. We gather together all kinds of local family events and activities each week and add useful information about classes, family-focused businesses, book and product reviews, recipes, crafts, school and camp guides and more. Macaroni Kid Annapolis is full of kid-friendly events on our event calendar.
Email: MacKidAnnapolis@MacaroniKid.com
Website: Macaroni Kid Annapolis