Are you ready for summer?
It's time to start thinking about summer options for your family: camps, classes, and more! We at Macaroni KID in Anne Arundel County are so excited to share with you some of the best summer camps and programs in our area.
Camps fill up quickly. Register and secure your child a spot ASAP.
We will be adding more camps throughout the upcoming months, so check back often.
When you sign up for programs, please let them know you found the camp in the Macaroni KID Summer Camp Guide.
Please share this resource with your family, friends, and your social media community.
Join us on 3/18/23 for our Summer Camp Expo and Family Fun Day at Anne Arundel Community College from 11am - 3pm.
In this guide, you will find detailed information about 20+ Featured Camps and Programs that we think your family will enjoy!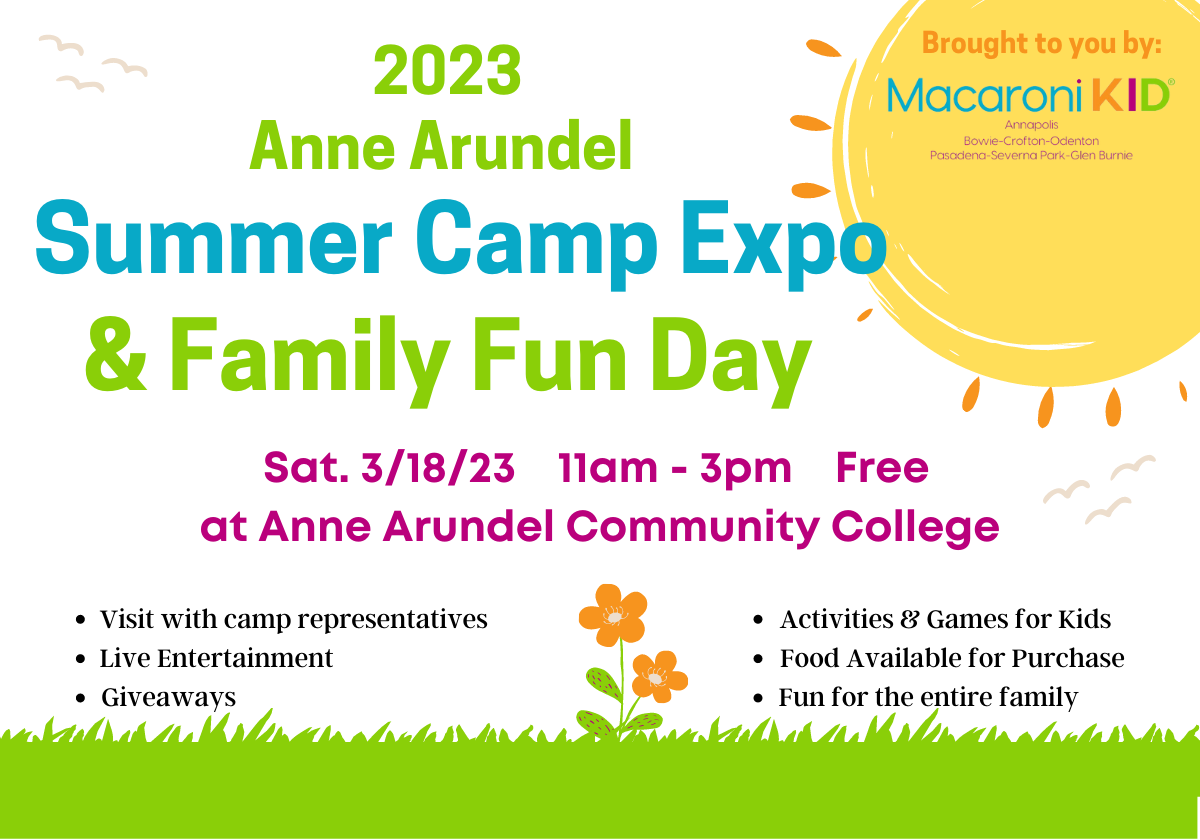 Free admission! Come out to the Anne Arundel Summer Camp Expo and Family Fun Day for activities, entertainment, and visits with 12+ summer camp and program representatives. Gift bags from Pigtails and Crewcuts for the first 48 families to arrive. Bring your friends, family, and neighbors. Food and beverages available for purchase. Brought to you by the three Anne Arundel County Macaroni KID publishers.
Special thanks to our Featured Summer Camps for making this guide possible.
Annapolis Recreation and Parks

Anne Arundel County Public Libraries

Athletic Performance Inc. (API)

Ballet Theatre of Maryland Summer Intensive

Benfield Sportscenter

Bowie Baysox Youth Baseball Camp

Celebree School of Glen Burnie

Celebree School of Severna Park

Children's Theatre of Annapolis (CTA)

Community Christian Preschool

Compass Rose Theater Summer Camps

Eco Adventures

Goldfish Swim School

Grannie Annie's Child Care

Impressionable Years Child Care Center

Jing Ying Institute of Kung Fu and Tai Chi

Love Life Yoga - Yoga, Art, and Nature Camp

Maryland Hall

Naptown Sings and Plays

Rolly Pollies

St. Anne's School of Annapolis Summer Explorers

SmartFit Kids - STEM, Adventure, and Young Explorers

Summer at Summit

The Blended Essentials

The Paddle - SUP Camp

Theater in the Park

Wholesome Healing Expressive Arts Therapy Camp

Wild Kid Acre
*Scroll down to learn more about our featured camps. They are in alphabetical order.

Location: Various Locations, primarily "Pip" Moyer Recreation Center, Annapolis
Ages: 4-17
Dates: June 20 through August 25
Description: There are many day camp options to choose from: Community Enrichment Camps, Splash Camps, and Camp Annapolis. Camps offer a variety of activities including cheer, flag football, kayaking, pickleball, skating, STEAM, SUP, tennis, volleyball, swimming, field trips, team building, indoor and outdoor play. Campers are divided by age and cared for in a safe, fun and challenging setting. Some camps offer: before and after care, some meals, and accept scholarships and vouchers.
Information and Registration: Website | LaKeisha Simmons | 410-263-7958
---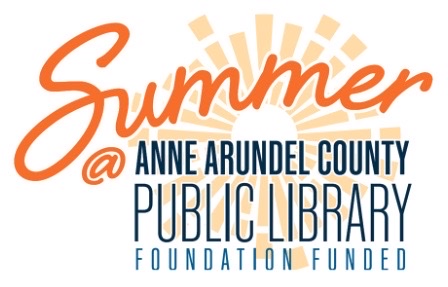 Location: 16 locations around Anne Arundel County
Ages: All Ages
Dates: June 1 - August 31
Description: Have fun, keep up reading skills and win great prizes by completing the Summer at Your Library challenge!
Information and Registration: Website | Sign up at your local library in June
---

Location: Gambrills
Dates: Ten weeks, between June 19 and August 25; Spring break camp available
Description: API Sport-Specific Camps are offered all summer long and are designed for beginner and intermediate athletes to learn new skills and develop their game in a specific sport. This unique sports developmental program is designed for kids to participate in a wide variety of sports. In this class, they will be introduced to soccer, football, baseball, basketball, hockey, lacrosse, tennis, and volleyball. ASKA Coaches create an environment that encourages kids to try new sports and participate in a variety of fun games. Coaches will maintain a positive and safe environment for children, as well as small class sizes to allow for personalized instruction.
Information and Registration: Website | 410-923-2100
---

Location: Annapolis
Ages: 12+ have 3 and 5 week options; Ages 8-11 have a 1-week option
Dates: 5-week option: June 26 - July 28; 3-week options: June 26 - July 14 OR July 10-28; 1-week option: July 31 - August 4
Description: A summer dance intensive is an excellent opportunity to not only keep active during the summer but to learn new skills and grow both technically and artistically as dancers. During both the 1-week and the 3/5-week intensives, students will take dance classes in ballet technique, pointe or pre/demi-pointe (as applicable), variations, partnering (as applicable), jazz, contemporary/modern, conditioning, and acting or musical theatre.
Information and Registration: Website | Email | 410-224-5644
---

Dates: June 19th-August 25th
Ages: 5-13 coed
Description: Benfield Sportscenter Summer Camp is a multi-sport day camp. We play a variety of sports, tagging games, and other activities throughout each camp day. Our goal is to promote fun, teamwork, respect, and sportsmanship!
Information and where to Register: Website
---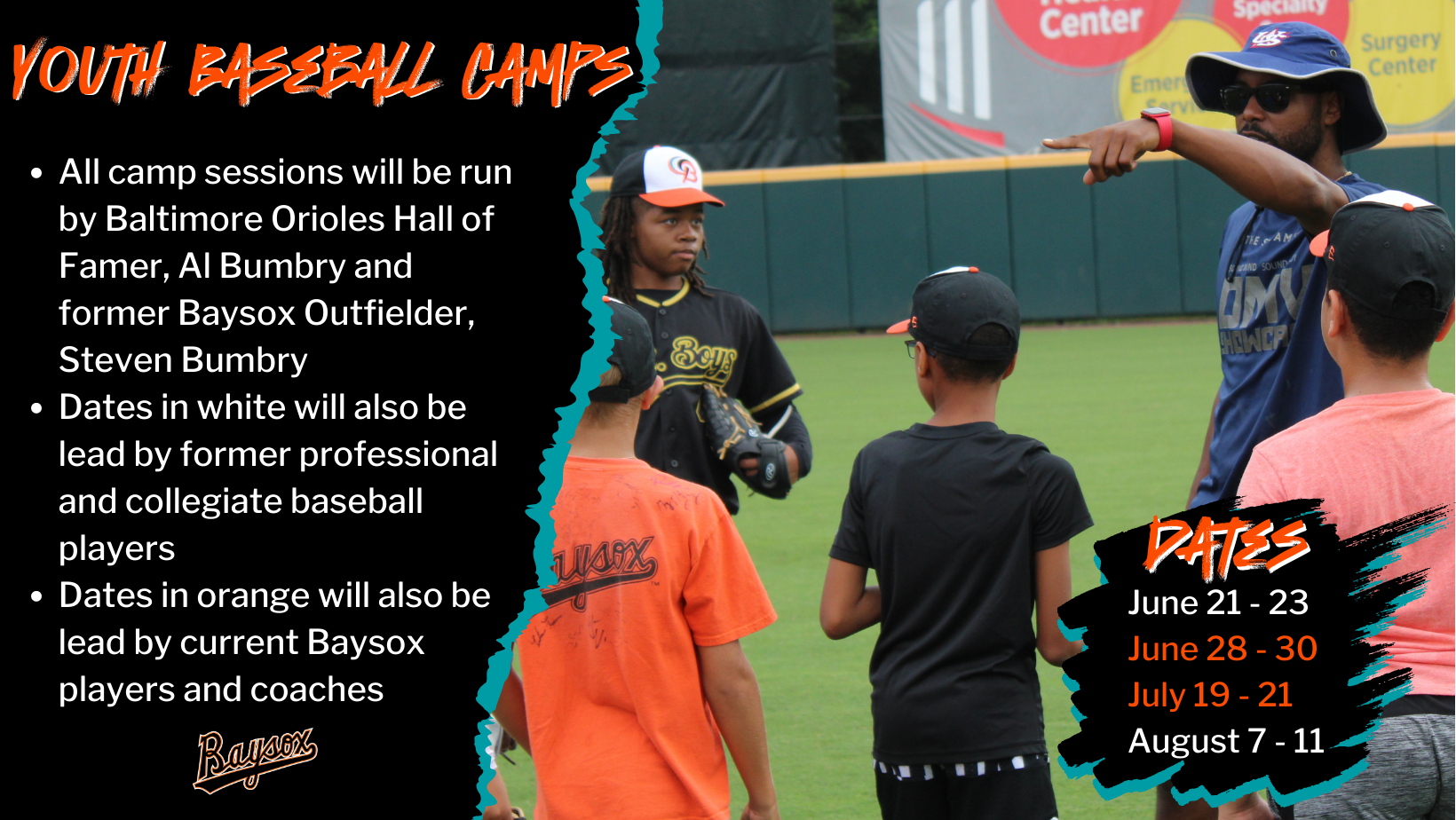 Location: Bowie
Ages: Boys and girls 6-12
Dates: 4 camps 8:30am-noon daily; June 21-23, June 28-30, July 19-21, August 7-11
Description: Learn "the Game" at this baseball camp led by Baltimore Orioles Hall of Fame Outfielder AL BUMBRY and former Baysox Outfielder STEVEN BUMBRY! Each camp includes on-field baseball instruction, games and fun! Each camper will also receive a Baysox cap, box seat ticket to a Baysox home game and a final day of camp pizza pizza party.
Information and Register: Website
---

Location: Glen Burnie
Ages: 6-12
Dates: All Summer
Description: Our 2023 Summer Camp will be another wonderful experience where children will spend the summer learning, while being active and having fun! During Summer Camp, we use themed lessons, activities, and field trips that help to reinforce the theme for the summer.
Information and Registration: Website | 410-412-5083
---

Location: Severna Park
Ages: 6- 12
Dates: All Summer
Description: Each summer, Celebree School embraces a themed, learning-focused summer camp program. Your child will have a season packed full of fun activities and field trips that impart knowledge while embracing the joy of summer!
Information and Registration: Website | 410-421-5125
---

Location: Annapolis
Ages: 5-18
Dates: Year-Round Workshops, Productions, and Theatre Training; see website for summer dates
Description: CTA provides a wide range of theatre arts education giving participants the opportunity to learn the basics of theatre, expand their imagination, develop voice, dance and performance techniques, and much more. All training, workshops and camps are designed for specific age and skill groups. CTA is committed to making theatre education available to all, scholarships and payment plans are available. Programs include:
Audition workshops, including the basics of how to audition and how to get noticed by the production team.
Workshops with multiple sessions in fall, winter, and spring semesters, held weekly over an eight-to 12-week period focusing on the development of the total performer and ending with a performance for family, friends, and the general public.
Special masterclasses are presented periodically with highly regarded professionals in different areas of the theatre arts.
"Behind the Scenes" training is presented to all production participants and walks them through all the aspects of the physical theatre.
Information and Register: Website | 410-757-2281 | April Forrer, Executive Director (contact for payment plans/scholarships)
---

Location: Pasadena
Ages: 2 to currently in kindergarten
Dates: June 12 - August 4
Description: Our camp is 7 weeks of different themes each week.
Information and Registration: Website (Enrollment opens March 20th) | 410-255-9250 | Email
---
Location: Maryland Hall, Annapolis
Ages: 5-15
Dates:
Create A Play: (Elementary 5+) June 19-23, July 24-28 and August 7-11
Theater Bootcamp: (Middle School) June 26-30
Fairytales Onstage: (Elementary 5+) July 10-14
Welcome to the Theater: (Middle School) July 17-21
Improvisation: (Middle School) July 31-August
Play Production: (Teens/tweens) August 14-18
Play Production: (Elementary 5+) August 21-25
Description: Kids take the stage with Compass Rose Theater, Maryland's best theater summer camp. Accredited teaching artists lead our theater camps for kids to experience the joy of storytelling through the art of collaboration. We believe each artistic experience enlivens the soul and cultivates the spirit for the better. Kids will build confidence and new friendships while experiencing the wonder of theater, creativity, and self-expression. Weekly indoor camps, 9-4, M-F.
Information and Registration: Website/Register | 410-980-6662 | Email
---

Location: Millersville
Ages: 5-11 & Counselor in Training 12+
Dates: June 12th - Sept 5th
Description: Our award-winning camps are designed to get kids excited about our natural world through hands on activities, games, crafts and animal encounters
Information and Register: Website | Email | 410-987-1300 | Facebook
---

Location: Gambrills
Ages: 4 months - 12 years
Dates: Throughout the summer
Description: We believe that your child deserves to have an incredible swimming experience in the safest and most fun environment possible. Our different Goldfish Swim Levels are specially designed to make learning fun through guided play for beginners to advanced swimmers, including infant swim lessons, toddler swimming lessons, and more.
Information and Registration: Website | 410-413-7065 | Instagram
---

Location: Pasadena
Ages: 5 -11
Dates: 6/19/2023 - 8/24/2023
Description: With a theme of "Water, Water, Everywhere," the children will explore life in, under and around ponds, rivers, the bay and the ocean. Activities include swimming, Jazzercise, Amazing Athletes, Webby Dance and many more. The children will also explore worms with Echoes of Nature, catch tadpoles at Jug Bay, dissect oysters at Annapolis Maritime Museum, ride the waves at Urban Pirates, and visit with sharks at the National Aquarium. While in house, the children will enjoy our large, shady playground with brand new equipment.
Information and Registration: Website | 410-255-0478 | Facebook
---

Location: Crofton
Ages: 5-10
Dates: All Summer
Description: This summer, your child gets to engage in activities that keep them physically active, improve their agility, and help build both independence and teamwork skills through sports and play.
Information and Registration: Website | 410-721-0544
---

Location: Arnold
Ages: 5-12
Dates: July 17-21 and August 14-18
Description: Our camps run M-F and include intensive practice in kung fu as well as a chance to try Chinese calligraphy, paper folding art, cool science, Lion Dance, music, tumbling, and group games such as tag, dodge ball and more. Kids will have fun while getting in great shape and learning new skills. Beginners with no experience in kung fu or martial arts will learn basic techniques and forms, while students with previous experience will have the opportunity to improve their skills. Tumbling will include basic balance skills such as headstands and handstands as well as working on rolls, cartwheels, and flips. We alternate between a physical activity and one of the other activities. Campers practice kung fu 2-3 times a day. We work very hard to provide a variety of interesting activities.
Information and Registration: Website | Email | 410-431-5200 | Facebook
---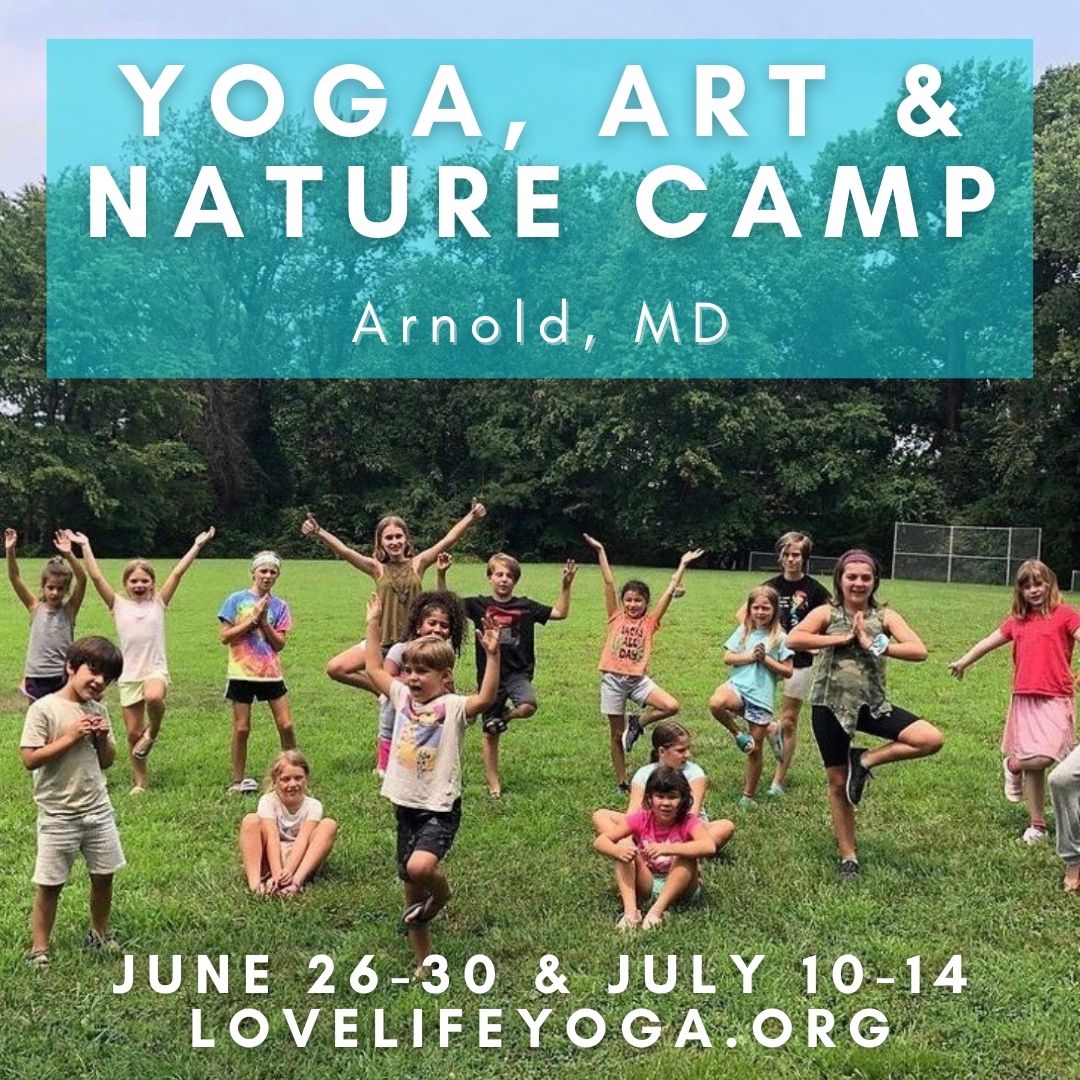 Location: Arnold
Ages: 6+
Dates: June 26-30 and July 10-14
Description: This is the 11th year of our one-of-a-kind outdoor yoga camp. Each day, we have FUN exploring yoga, sensory art, pool and beach time, teamwork activities, practicing the "Yoga Kids Toolbox" Techniques for Breath and Mindfulness for Stress Management, Relaxation and Focus, games, activities and the magic of play in nature. All of our exploration is centered around the yogic themes of Peace, Sharing, Self-esteem Building, Community, Friendship, Equity and Love.
Information and Register: Website | Facebook
---

Location: Annapolis
Ages: 0-18
Dates: Summer 2023
Description: Maryland Hall offers weeklong day camps in Art, Dance, Theater, Language Immersion, Music, and Adaptive Arts, while our summer enrichment extends throughout and beyond camp dates! Lastly, consider our weekly mini workshops and classes, as there's summer fun and Art for All at Maryland Hall, where The HALL IS HOME!
Information and Registration: Website | Facebook | Instagram
---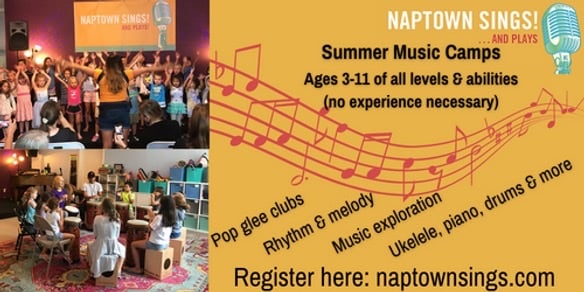 Location: Annapolis
Ages: 3-11
Dates: Ten 1-week camps between June 19 and August 25, 10am-3pm daily
Description: What keeps kids coming back year after year? Our Summer Music Camps are jam-packed with music, more music, and fun! Students, ages 3-11 of all levels and abilities (no experience necessary), will have the opportunity to learn to sing in our pop glee clubs, drum their hearts out in world drumming class, play various instruments, and participate in fun musical activities! In addition, our older kids (6-11) will learn an instrument: piano or ukulele. Our younger students (ages 3-5) will be immersed in a world of music exploration, from instrument playing, to rhythm and melody, and of course, fun! We have highly qualified instructors on staff to ensure a well-rounded educational experience and an exciting week. In addition to group instruction in voice and instruments, students will make friends, play games, and have an all-around musical good time! Camps will be held indoors at the Naptown Sings and Plays! studio. Campers will be grouped into groups based on age and instrument selection. Considering multiple weeks? Each week we will have new music, new genres, and new themes for a full immersive experience!
Information and Registration: Website | Email | 410-801-7936 | Facebook | Instagram | tic tok @naptownsings
MacKID Discount: Register for camp by April 1st for a $15 discount using the code MACKID23
---

Location: Severna Park
Ages: 3-8
Dates: 10 weekly themed camps between June 19 - Aug. 25 to keep you moving throughout the summer.
Description: This camp features a structured curriculum that is designed to maximize each child's physical strengths and creative outlets in a non-competitive environment with plenty of unstructured time for PLAY! Every camp session includes our great Art, Music, and Gym – all tied together with a weekly theme. Daily activities include tumbling, strength & agility courses, arts & crafts, games, singing, dancing and so much more!!! Flexible enrollment.
Information and Registration: Website | Facebook | 410-544-9002
---

Location: Annapolis
Ages: 3.5 - 5 years old
Dates: eight week-long camps, June 26 through Aug. 18
Description: A summer of hands-on, educational exploration and fun. From Kitchen Chemistry to learning about the Chesapeake Bay, our eight week-long summer camps are sure to delight and engage your youngest explorers. Our camps will have your little ones leaping, learning, and loving summertime with weekly visits from special guests such as Annapolis Maritime Museum, Eco Adventures, and Wild Kid Acres. Multi-week discounts are offered.
Information and Registration: Website | Tracy Edlich, Camp Director
---

Location: Severna Park, Annapolis, Cape St. Claire
Ages: 4-14
Dates: 6/19/2023 to 8/25/2023
Description: SmartFit Kids is offering your children an opportunity for a fun-filled summer. SmartFit Kids offers three fun and engaging summer camps: STEM, Adventure, and the Young Explorers. Give your children the exciting opportunity to learn about science, technology, engineering, mathematics, and athletics, and build their overall skills
Multi-week discounts for early bird camp registration from January 20 - March 31. The more weeks enrolled, the greater the savings per week. Camp prices will go back up after March 31st. Spots are limited, please register soon to secure a spot for your child.
Information and Registration: Website | Email | 443-597-7173 | Facebook
---

Location: Edgewater
Ages: Grades 1-9
Dates: The Summit School offers three summer learning programs:
Camp Summit: Grades 1-8, July 5 - 28, 8:30am - 3:00pm
Executive Functions Camp: Grades 6 - 9, July 17 - 28, 9:00am - 12:00pm
EmPOWER™ Writing Camp: Grades 6 - 9, July 17 - 28, 12:30pm - 3:30pm
Description: Avoid summer learning loss while having fun! Register now for Summer at Summit to prepare your child for back to school success.
Information and Registration: Website
---
Location: Severna Park
---

The Paddle
Location: Pasadena
Ages: 7-14
Dates: June 19-22, June 26-29, July 10-14, July 17-20, July 24-27, July 31-August 3, August 7-10, August 14-18, August 21-24
Description: The Paddle's SUP camps focus on safety on and around the water, education about the local waterways and nature, crafts, games, and so much more.
Information and Registration: Facebook | Email
---

Location: Severna Park
Ages: 5-14
Dates: July 31 - August 3, 2023 and August 7 - August 10, 2023
Description: We are creating a musical centered around this years theme CANDYLAND CAMP. The script, written by our directors, will provide a chance for everyone to act, dance and sing. The entire show will run as a full production! During the camp the kids will have an opportunity to make their own props and sets. Our staff is well versed and experienced in acting, singing and dancing. Each group will have a director and an assistant. They will work with an acting coach, vocal coach and dance coach as well as a craft instructor! Each week will be filled with games, theater exercises while learning the techniques of the trade.
Information and registration: Website | Facebook
---

Location: Spriggs Farm Park, Arnold
Ages: 6-12 (Groups split by ages: 6-8 and 9-12)
Dates: Two Sessions, June 26-29 and July 24-27
Description: This nature-based camp is a fun and engaging experience that uses evidence-based strategies to promote individual growth and improve social skills and connections with peers. Outdoor play is a fundamental component, harnessing the multi-sensory power of nature to increase awareness, engagement, and improve social and emotional well-being. The camp framework also focuses on two essential elements from child-centered play therapy: structure and freedom. In this unique space, children are free to express themselves, explore, and experiment to connect to their inner knowing. Children gain self-trust and confidence in their ability to handle their various environments, discovering their strengths and capabilities. They have the opportunity to integrate their learnings from the group by engaging in family play therapy interventions. Assessment and feedback is provided to parents throughout the group so they can continue to implement strategies at home.
Information and Registration: Website | 443-286-3578 | Email | Facebook
---

Location: Edgewater
Ages: 6-13
Dates: Seven week-long camps from June 19 through August 4, 9am to 4:30pm
Description: Our camp is intended to be extremely experiential and catered to the individual attendee. Each day will have an overall focus topic with a multitude of activities and curriculum. Wild Kid Acres intends to have a variety of partners join the camp from scientists to a bean farmer! Local farmer visits, production demonstrations, western riding demonstrations, and getting hands dirty. Daily lunch and snacks included. Add-on evening riding lessons available.
Information and Registration: Website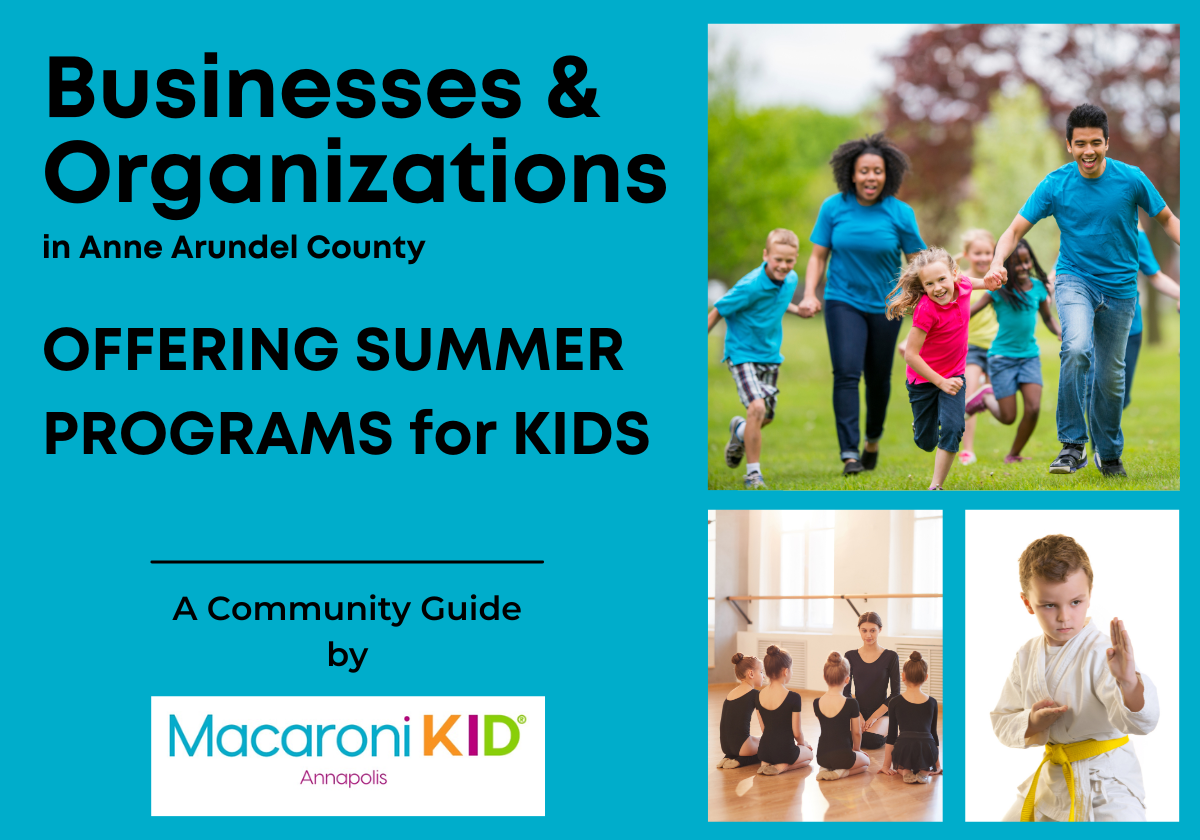 Want to see more Summer Camps and Programs? Our guide got too long to list everything in one guide so we made another guide, Businesses and Organizations in Anne Arundel County Offering Summer Programs for Kids. Click on the guide pic to see hundreds of places offering fun things for your children to do this summer. The list is so long, that programs are divided by type:
ARTS - Dance, Music, Theater and Film, Visual Arts and Crafts, Misc.
ATHLETICS AND SPORTS - Archery, Baseball, Basketball, Bowling, Golf, Gymnastics Horseback Riding, Lacrosse, Martial Arts, Skating, Soccer, Water Sports, Yoga, Misc.
CHILD DEVELOPMENT CENTERS / CHILD CARE with Summer Programs
EDUCATIONAL - Driving Schools, STEM, Tutoring, Misc.
NATURE and ANIMALS
OVERNIGHT
SPECIAL NEEDS
MISC and MULTIPLE PROGRAMS OFFERED

Who is Macaroni KID?
Macaroni KID is a group of publishers who publish hyper-local websites, social media pages, and weekly e-newsletters focused on fun family events and information.
We inform parents about local family-friendly events and activities each week. We share useful information about classes, family-focused businesses, product reviews, recipes, crafts, camp guides, and more. The three Anne Arundel County Macaroni KID publishers listed here proudly serve 49,500+ subscribers and social media followers.
Let us help you Find Your Family Fun!
? QUESTIONS?
Have questions or would like to include your camp or program in this guide? Contact the Anne Arundel County Macaroni KID publisher closest to you. We look forward to hearing from you.
Darla Winstead 478-954-6366
Macaroni KID Bowie-Crofton-Odenton
Gloria Starr Benya-Zwald 443-223-4420
Macaroni KID Pasadena-Severna Park-Glen Burnie
Laura McElwain Colquhoun 571-235-3951
Articles - Related to Summer Camp